June 30, 2023
How Long Does It Take to Get My Cosmetology License?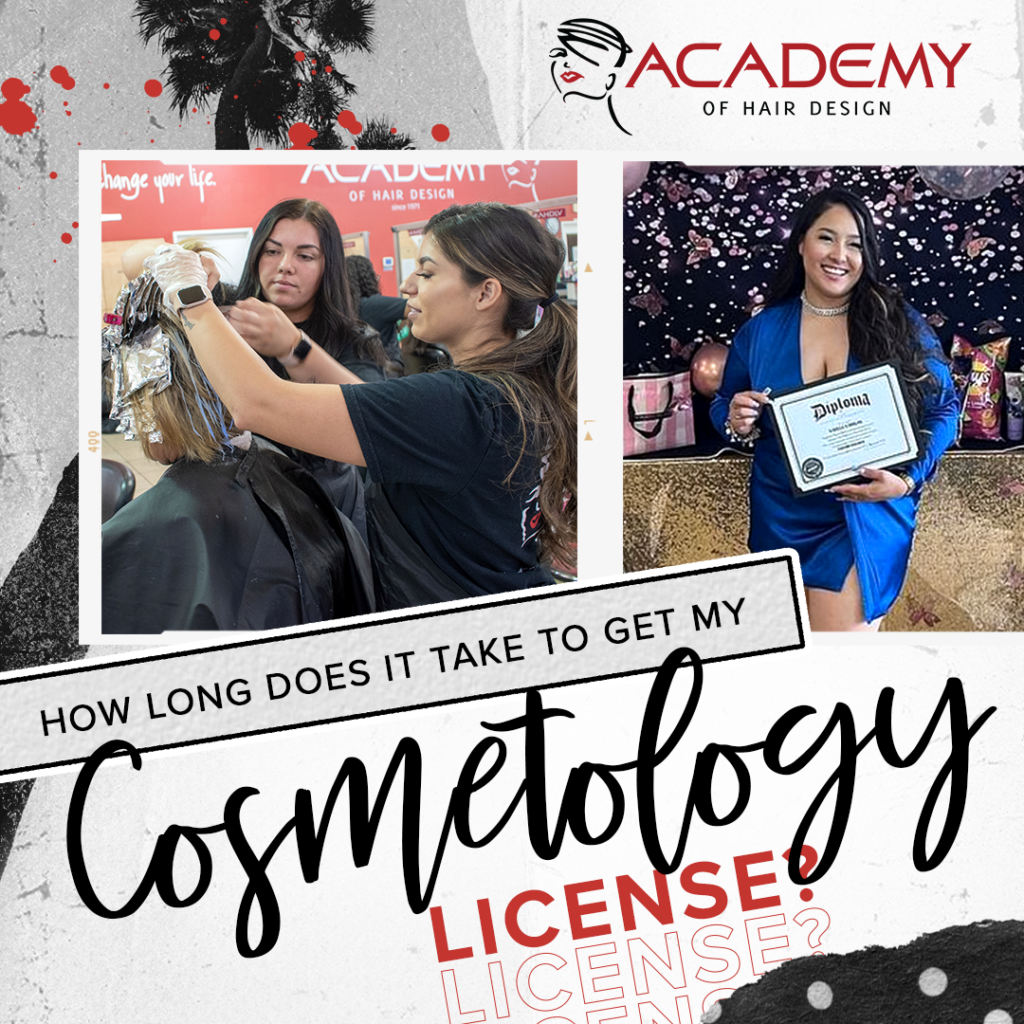 If you have a passion for beauty and have always dreamed of becoming a cosmetologist, you may wonder how long it will take to turn those dreams into a reality. Pursuing a career as a cosmetologist can be an exciting time in your life! In this blog, we'll talk about how long it takes to get a cosmetology license!
About Our Cosmetology Program
Enrolling in a program is the first step to getting your cosmetology license! Our cosmetology program is perfect for those passionate about hair, skin, and nails. The program is designed to equip you with the knowledge, skills, and techniques necessary to excel in the industry. As a student in our school, you can learn a custom curriculum that includes:
Hair Cutting
Hair Styling
Color/ Tint
Balayage
Ombré
Facials
Eyelashes
Waxing
Microdermabrasion
Makeup
Manicures
Pedicures
Reception and Dispensary
Salon Management
Nevada Law Compliance
How Long Does It Take To Get My Cosmetology License?
At the Academy of Hair Design, we understand the importance of providing an efficient and focused learning experience. Our cosmetology program requires a total of 1,600 clock hours to complete. Generally, this program can be completed in as little as a year, allowing you to dive into your career sooner.
We understand that fitting education into your busy schedule can be a concern. That's why we offer flexible options, including full-time or part-time courses during the day or evening. We want you to learn at a pace that suits you best!
Preparing For Licensure
Once you have completed your education, it's time to prepare for your licensure exam! Licensure requirements also vary from state to state, but they generally consist of a written theory exam and a practical exam where you demonstrate your skills on a live model or mannequin.
At the Academy of Hair Design, we place a strong emphasis on preparing our students for the licensure exam. Our experienced instructors provide hands-on training, practice exams, and comprehensive study materials to ensure you feel confident and well-prepared when the time comes to showcase your skills and knowledge.
Start Your Career Right Away!
One of the key advantages of becoming a cosmetologist is that you can kickstart your career right away. We know that your goal isn't just getting your cosmetology license, but also getting a job and begin building your clientele.
With our extensive experience as a family-owned and operated institution spanning decades, we have cultivated strong connections with local businesses that consistently express interest in hiring our graduates. While we cannot guarantee employment, we place a high priority on the placement process and genuinely care about the success of our graduates.
Benefits Of An Early Career Start
Starting your career promptly after getting your cosmetology license offers many benefits!
Gain Practical Experience: Starting your career soon after graduation allows you to put your skills into practice, helping you refine your skills and build confidence in yourself.
Build A Clientele: Early career start allows you to build your clientele sooner. By establishing these relationships with your clients early on, you can set a strong foundation for your career!
Professional Growth: Beginning your career sooner allows you to experience the workforce at an accelerated pace. The more experience you have, the faster you'll grow in your professional life.
Networking Opportunities: Starting your career early exposes you to a wider range of industry professionals. These connections can provide guidance, support, and career opportunities.
Stay Current With Trends: By entering the industry right after graduation, you can stay updated with the latest trends, techniques, and innovations. This ensures that your clients are receiving the most relevant service!
Stay Motivated: By launching your career right away, you can maintain your sense of motivation and drive! This can help you improve and excel in your career!
Ready To Become A Cosmetologist?
In the world of cosmetology, getting your license is the first step toward your dream of becoming a cosmetologist. If you're ready to pursue your dreams, don't wait! Take the first steps and contact us today! We're more than happy to answer any questions you may have regarding your education, *financial aid, or more! We look forward to hearing from you!
*financial aid only available to those who qualify