August 18, 2023
6 Steps to Becoming a Cosmetologist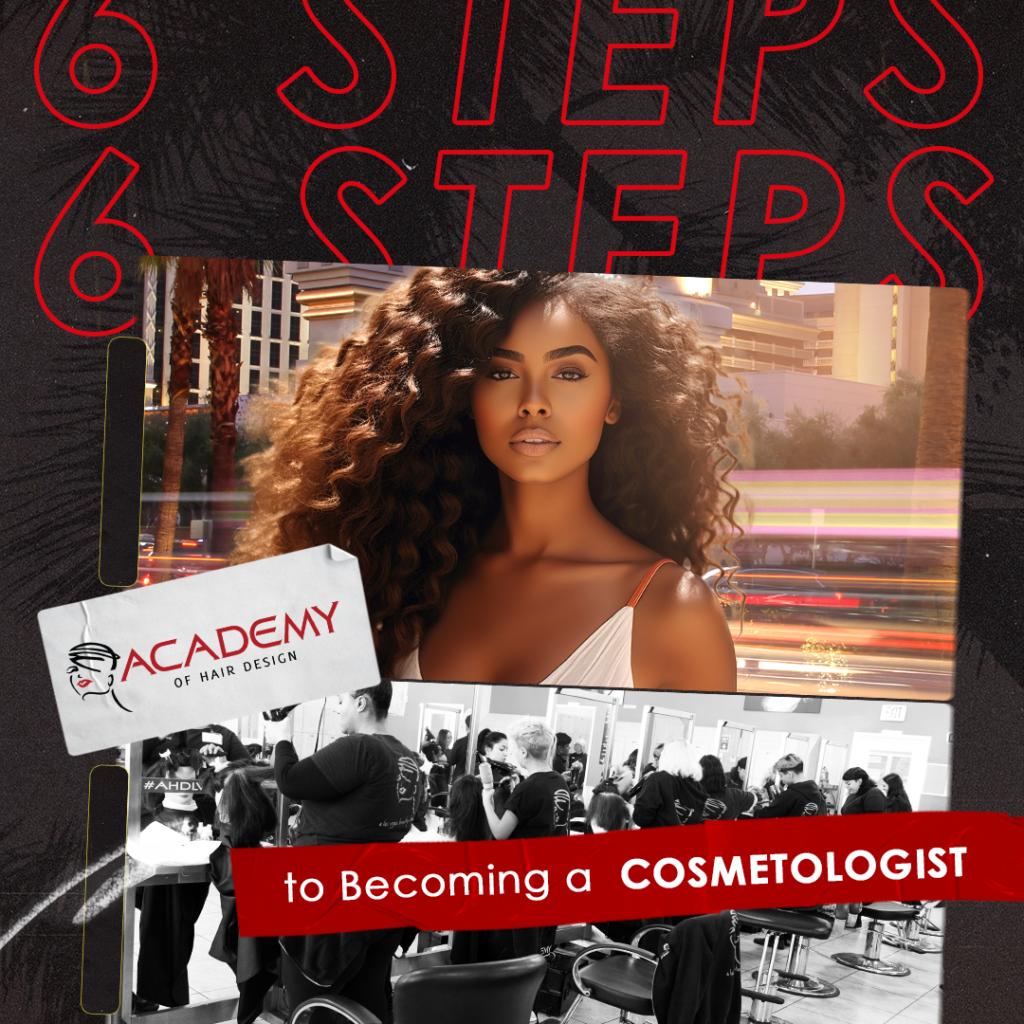 Do you have a passion for all things beauty? If you find joy in creating unique hairstyles, experimenting with makeup looks, and creating various nail art, then consider becoming a cosmetologist! In this blog, we will walk you through the six crucial steps to becoming a cosmetologist in Nevada. Embrace your passion for beauty and let us help you turn your dreams into a reality!
Step 1: Research Schools
The first step to becoming a cosmetologist is thorough research on the school you want to attend! Take the time to explore the cosmetology program, its curriculum, facilities, and the qualifications of its instructors. We also recommend you read reviews from former students. This can help you gain valuable insight into their experience with the school, getting a unique perspective on the support they received during their time there!
The Academy of Hair Design prides itself on our commitment to our student's success and growth throughout their cosmetology journey. From the moment you step through our doors, we prioritize your education, support, and overall experience.
Step 2: Enroll In A Cosmetology Program
A solid education is the foundation of your future career. Choosing the right cosmetology is essential for your success! During your cosmetology program, you'll learn essential techniques and gain practical experience in various beauty disciplines. In our 1600-hour cosmetology program, students can expect to learn:
Hair Cutting
Hair Styling
Color/ Tint
Balayage
Ombré
Facials
Eyelashes
Waxing
Microdermabrasion
Makeup
Manicures
Pedicures
Reception and Dispensary
Salon Management
Nevada Law Compliance
If you're concerned about integrating cosmetology school into your schedule, we provide multiple scheduling options so you can start your journey into the beauty industry. As a student in our program, you have the freedom to opt for morning or afternoon classes, either on a half-time or full-time basis, allowing you to begin honing your skills at your convenience.
Step 3: Pass Your Exams
Passing your exams is a crucial milestone in becoming a certified cosmetologist. Utilize study guides, textbooks, and practice exams to reinforce your understanding of key concepts. Additionally, seek guidance from instructors or mentors who can provide valuable insights and tips on how to approach the exams effectively.
In Nevada, you'll need to pass a practical exam and a theory exam. The practical exam evaluates your hands-on skills in various beauty disciplines, such as hair styling, cutting, coloring, makeup application, and nail services. On the other hand, the theory exam assesses your theoretical knowledge of cosmetology concepts, including sanitation and safety practices, chemical processes, skin and hair anatomy, and industry regulations.
Step 4: Obtain Your License
Congratulations, you've passed your exams! The next step is to obtain your license, which is a crucial validation of your skills and knowledge as a certified cosmetologist. To acquire your license, you'll need to submit the necessary paperwork and documentation to the Nevada State Board of Cosmetology.
Step 5: Start Your Career
It's time to embark on your cosmetology career! Whether you dream of running your salon, working at a high-end spa, or becoming a celebrity makeup artist, take proactive steps to achieve your goals. Here are our favorite tips to launch your dream career:
Build a portfolio: This involves compiling a collection of your best work. Whether you're applying for a job at a salon or seeking freelance work, a strong portfolio allows employers to gauge your capabilities!
Network with experienced professionals: Networking with experienced professionals in the cosmetology industry is essential for your career growth. Networking provides a chance to learn from those who have walked the path before you and gain practical advice on how to navigate challenges and maximize your potential as a cosmetologist.
Utilize social media: In today's digital age, social media is a powerful tool for cosmetologists to showcase their work, reach a broader audience, and establish their personal brand.
Create a business plan: If you have aspirations of starting your own salon or beauty business, creating a comprehensive business plan is essential for success. A well-thought-out business plan not only helps you stay organized and focused but also serves as a roadmap to guide you through the challenges and opportunities that come with entrepreneurship.
Stay passionate and dedicated: Passion and dedication are the driving forces behind a successful cosmetology career. The beauty industry demands hard work, continuous learning, and a genuine love for the craft. Embrace each day with enthusiasm, and treat every client interaction as an opportunity to make a positive impact
Step 6: Embrace Continuous Learning
The beauty industry is ever-evolving, with new trends, products, and techniques emerging regularly. As a dedicated cosmetologist, it's crucial to stay updated with the latest advancements and innovations. Attend workshops, seminars, and industry events to learn from experienced professionals and network with like-minded individuals. By staying ahead of industry trends, you'll remain competitive and offer your clients the most cutting-edge services.
Become A Cosmetologist With Us!
If you're ready to become a cosmetologist, let us help you turn your dreams into reality! Our passion and dedication to our students are unwavering, and we take pride in providing a stepping stone for our students to reach their goals.
We're more than happy to help you with any questions you may have regarding your education. Contact us today to start your journey towards the beauty industry, we look forward to hearing from you!