March 27, 2023
Top Traits That Make A Great Esthetician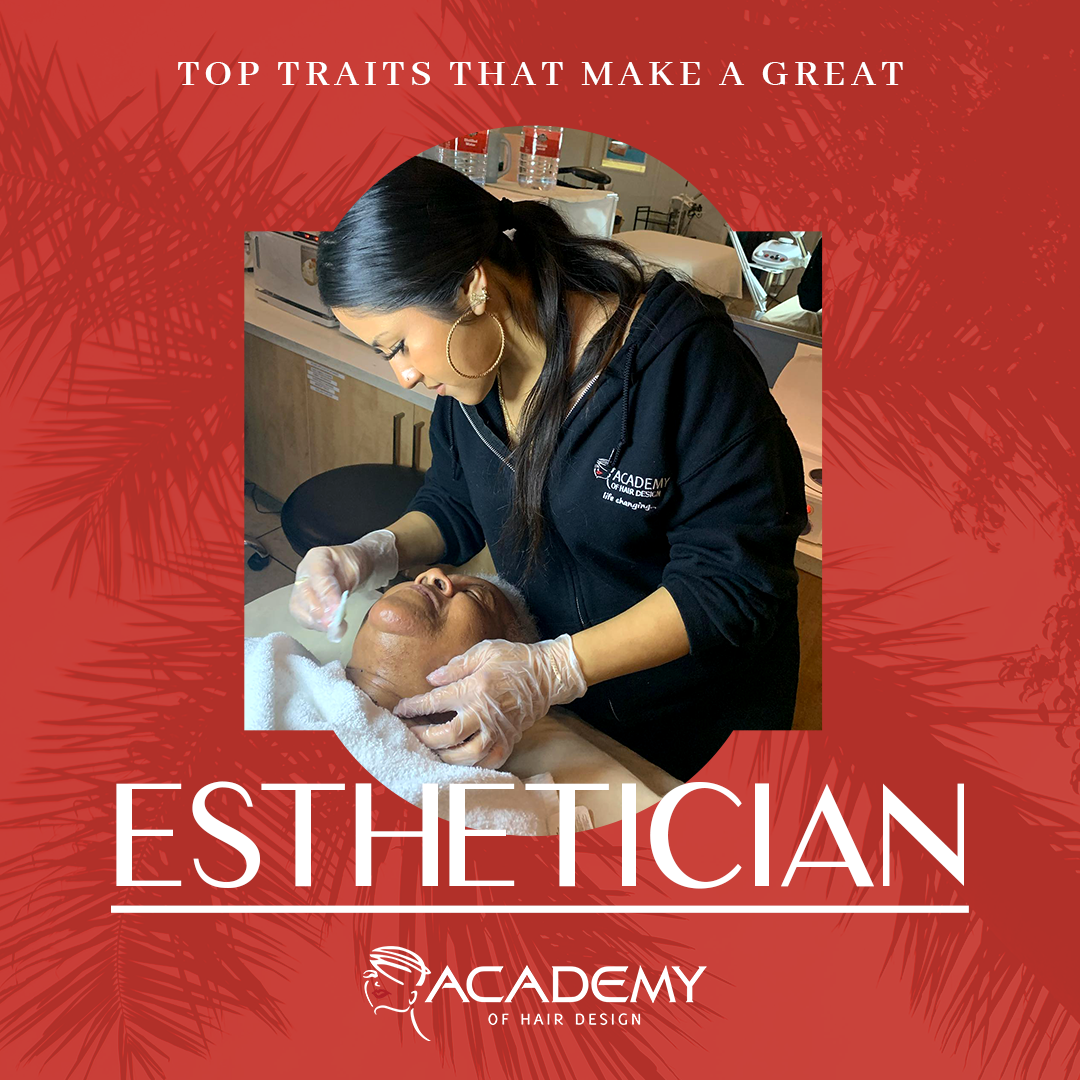 Are you considering a career in esthetics and are curious to know what it takes to be a great esthetician? There are many traits that make up a great esthetician. Besides all the technical skills and knowledge that an esthetician must know, there are also a set of personal traits that set apart a good esthetician from a great one. And what better timing than becoming an esthetician now? According to the US Bureau of Labor Statistics, the job outlook for estheticians is expected to grow 17% by the year 2031!
In this blog, we're going over what they are so that you can be the best you can be!
Attention To Detail
One of the most important traits of a great esthetician is attention to detail. Estheticians work closely with the face and need to be able to notice even the smallest details. From analyzing your clients skin type to selecting the right products for them, attention to detail is essential.
Great Communication Skills
A big part of the job is communicating with clients. A great esthetician will be able to understand their clients needs and provide the best possible service for the best possible outcome.
Another big part of the job is just listening to your clients! They'll open up to you and you'll get to hear about their lives. Learning how to communicate with your clients is essential to making them feel safe and comfortable in your care!
Patience
Beauty treatments aren't a quick fix. They usually take time and the process can't be rushed. If an esthetician doesn't have patience, that means they're likely to make shortcuts. In order to ensure the best possible outcome, a great esthetician will spend as much time as necessary to achieve the desired result.
Passionate
Being passionate about your work is crucial for any profession. Estheticians who are passionate about their work are more likely to succeed in their careers. Here's why you should always keep your passion:
Continuous learning: When you're continually learning new things, you're keeping up with trends and growing your skills. Estheticians who are passionate about their work are excited to learn and are looking for ways to improve their skills!
Career fulfillment: Being passionate about your job can lead to a fulfilling and rewarding career. When you're passionate about your work, it doesn't even feel like work! With passion comes a sense of accomplishment and purpose, and this can translate into the quality of your work.
Strong Work Ethic
Esthetics isn't for the faint of heart and it requires a strong work ethic to be successful in the industry. This means being willing to work hard for your career. It means being punctual, reliable, and knowledgeable.
Creativity
Every client has different needs and skin types. Being a great esthetician means having a creative mind because you'll need to create different treatments and skin care routines for your different clients.
 A "People Person"
Estheticians work day in and day out with people. People are their job! Being a people person can separate you from being a good esthetician to a great esthetician. A couple reasons why being a people person can help you succeed:
Builds trust: When clients visit you, they're putting their trust in you. They want to feel confident that their skin is in good hands. By being friendly, welcoming, and empathic, you can easily build trust with your clients.
Emotional support: A lot of estheticians can also be considered therapists! Whether you're giving your client a listening ear, providing words of encouragement, or simply just being a friend to them –  you'll notice how many of your clients appreciate this trait!
A positive experience: A people person is often able to create a positive experience with their clients. By being friendly and engaging, clients are more likely to return for future appointments if they've had a positive experience with you.
Ready To Pursue Your Passions?
Being a great esthetician requires more than just knowledge and technical skills. It requires a set of personal traits as well. By developing these traits we talked about, we're sure you can  become a successful esthetician.
If you're interested in becoming an esthetician, don't hesitate to reach out! Our esthetics program can be a great way to gain all the knowledge and skills needed to become a great esthetician. We can't wait to meet you and see what you make of your esthetics career!