July 26, 2023
What Can I Do With My Esthetics License?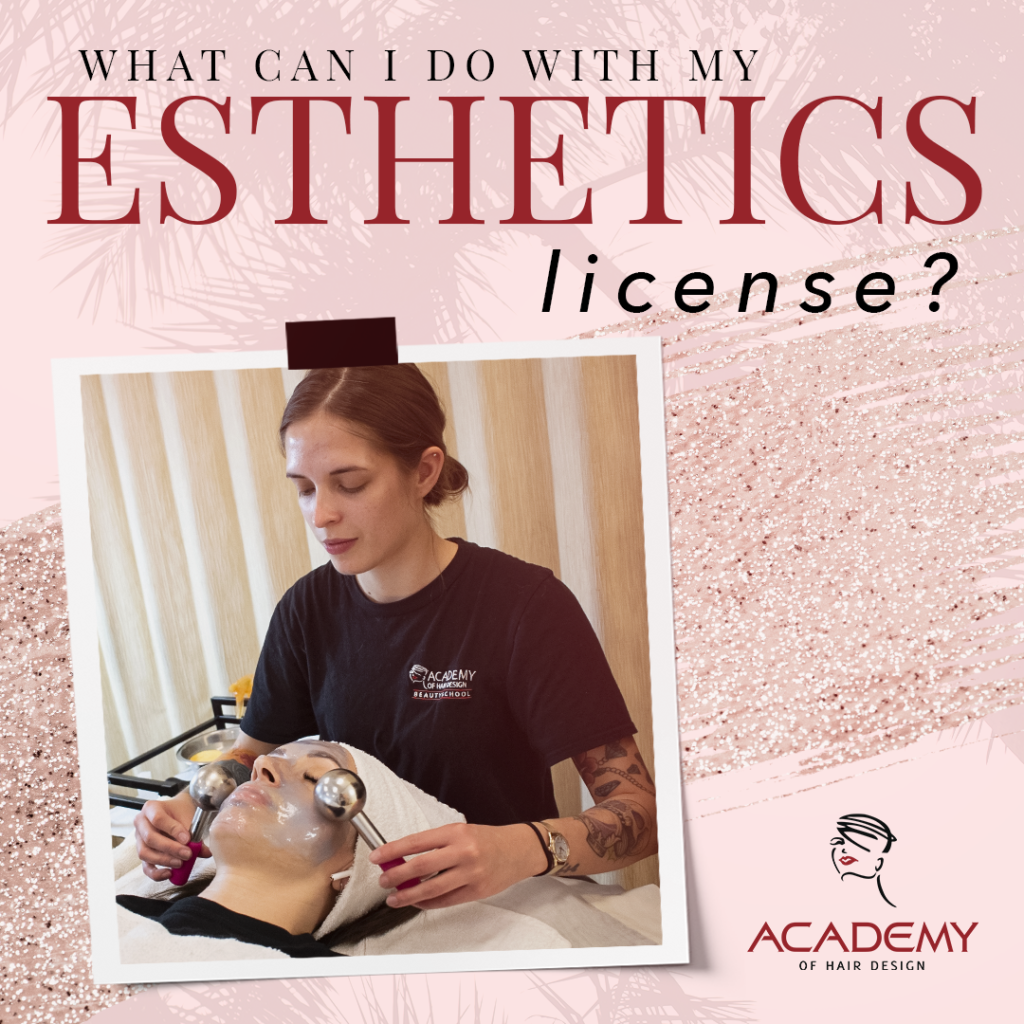 If you have recently obtained your esthetics license, congratulations! You're now on your way to a world of possibilities in the beauty industry. With your newfound skills and expertise, there are various opportunities you can pursue that can lead to a fulfilling career!
In this blog post, we will explore what you can do with your esthetics license and the benefits of pursuing a career in esthetics.
Work In A Spa
Working in a spa is one of the more popular choices after graduating from an esthetics program. Spas provide a wide range of services like facials, body treatments, hair removal, lashes, and more.
Working in a spa is a popular option for many reasons:
Relaxing environment
Opportunity for professional growth
Collaborative work environment
Diverse service offering
And more
Work As A Makeup Artist
If you have a passion for makeup and love helping people look their best for special occasions, pursuing a career as a makeup artist might be perfect for you. As a makeup artist, you can provide services for weddings, proms, photoshoots, and other events. By enhancing natural beauty and creating stunning looks, you can play an essential role in making someone's big day even more special.
Work In A Lash Lounge
As an esthetician in a lash lounge, you'll be trained in the art of eyelash extensions! Working with clients to enhance their natural lashes or create dramatic lash looks allows you to showcase your precision and attention to detail. Lash lounges provide a comfortable and relaxing environment for clients to transform their lashes, and as an esthetician, you'll have the opportunity to build relationships, boost confidence, and deliver beautiful, customized lash extensions that leave clients feeling glamorous and satisfied.
Work In A Dermatology Office
If you want to focus on more advanced treatments in esthetics, a dermatology clinic could be an excellent career path. You will work alongside dermatologists to provide certain services like chemical peels, microdermabrasion, laser treatments, and more.
Working in a dermatology clinic allows you to address specific skin concerns and conditions, and you may be involved in developing treatment plans tailored to each client's unique needs. Having extra exposure to medical-grade skincare products and equipment can significantly enhance your knowledge and skill set and make you a more competitive esthetician!
Work In A Surgical Arts Center
Working in a surgical arts center as an esthetician can be an exciting and rewarding career choice for those interested in combining medical knowledge with esthetic treatments. Surgical arts centers often offer a wide range of cosmetic procedures and treatments, providing a comprehensive approach to enhancing patients' appearance.
Working as an esthetician in a surgical arts center, you can assist patients with their pre and post-surgery care. This can include giving them skincare protocols or giving them an aftercare regimen that can promote the healing of scars.
Work In A Beauty School
If you work in a beauty school, you have the opportunity to share your knowledge with the next generation of beauty professionals! You can play a vital role in shaping the future of the beauty industry and empowering students to pursue careers in esthetics.
Become An Entrepreneur
If you've always dreamed of owning your own business, obtaining your esthetics license can turn that into a reality. You can choose to open your own spa or even esthetics studio in your home. As a business owner, you have the freedom to call your own shots. You have complete control of the vision, prices, and services you provide.
Benefits Of Becoming An Esthetician
Becoming an esthetician comes with its own set of benefits, which can make it a great career path for those interested in beauty. Here are some benefits of becoming an esthetician:
Pursue Your Passion: Pursuing your passions is something that almost everyone longs for, and as an esthetician, you have the opportunity to turn your passion into a career.
Creativity: Working in esthetics allows you to tap into your creativity. From personalized skincare routines to unique makeup looks, you can let your creativity shine!
Build Relationships With Your Clients: As an esthetician, you're talking to clients all day and you have the privilege of building personal connections with them. Some clients may even become close friends! This personal connection can be incredibly rewarding and fulfilling, as you don't find this very often with careers.
Growing Industry Demand: According to the US Bureau of Labor Statistics, the demand for estheticians is on the rise, with a growth rate of 17% by the year 2031. A growing demand means more opportunities for the future!
Pursue Your Passions!
Are you ready to pursue your passion and turn it into a career? Contact us and we can help make it happen! By enrolling in our esthetics program, there are plenty of opportunities waiting for you, you just have to take the first step! We're passionate about our students and want to see them succeed.
We look forward to helping you turn your dreams into reality and adding more estheticians to the industry!